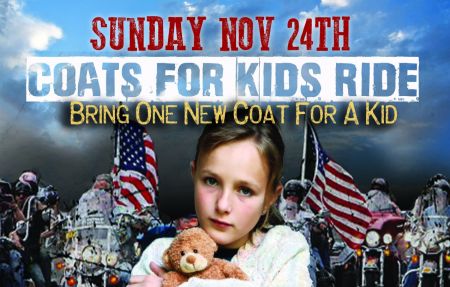 Address
5920 N Interstate 35
Corinth
TX 76210
November 24, 2019 9:00AM - 5:00PM
Police Escorted ride thru beautiful Denton County 

Each driver and passenger MUST bring one NEW COAT for a child 5-18 years old. Please leave the tags on the Coats. We want the KIDS to feel what is like to get something NEW! This year we have learned that there is a need for larger Coats for Larger Kids and Hoodie for High School Kids. DO NOT BRING USED COATS. THEY WILL NOT BE ACCEPTED. YOU CAN BUY A COAT FOR $25.00 per.

Ride starts at CH Collins Stadium,1500 Long Rd, Denton, TX 76207. Registration 9am, KSU @ Noon. Ashmmore Band will be rockin the crowd, Food Trucks & more. After the safety briefing, enjoy a Police Escorted ride thru Denton County and back to American Eagle Harley Davidson.

Here at AEHD, there will be Rachel Stacy live onstage, Food Trucks, Raffles, 50/50 & more..
Back to previous page